Home

Meeting Info

Events

Credo

Mission Statement

The Christmas Box
Angel Statue

Love Gifts

Why Butterflies?

Poems

In Remembrance

FAQ's

Related Grief Links

Keepsakes

Newsletters



Link to Us

Make Homepage


The Waterbury TCF Chapter participated in bringing the Christmas Box Angel to the Newington, Connecticut area. The statue was erected in memory of all children who have died. Former Governor Rowland's Offical Statement proclaimed October 13, 2002 a 'A Day of Remembrance and Mourning' for individuals and families who have suffered the terrible loss of a child.

The angel is based on the book 'The Christmas Box', written by Richard Paul Evans. For more information visit the Richard Paul Evans website. For a complete listing of other angel statue locations across the country click here.


---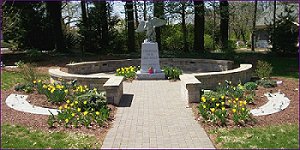 View Christmas Box Angel
Photo Gallery

View Former Gov. Rowland's
Official Statement
---
The directions to the Newington, CT site are: 84E to Exit 35 (towards New Britain), which continues on Route 9N. Take Exit 29 from Route 9 and turn right on Cedar Street. At the 4th light (1.1 mile), take a left on to Willard. Travel .2 mi and on the left side there is a sign on the left of the entrance that says "Kellogg Eddy House." Go into the 2nd parking lot on the right and the statue is visible from the lot. It takes about 30 minutes to get there from Waterbury.



For information on The Statue or purchasing a memorial paver for the site, please don't hesitate to email Sharon Burns at waterburychapteroftcf@yahoo.com.