Written by: Anonymous
Do not stand at my grave and weep
I am not there, I do not sleep.
I am a thousand winds that blow;
I am the diamond glints on snow.
I am the sunlight on ripened grain;
I am the gentle autumn's rain.
When I ask you awaken in the morning's hush,
I am the swift uplifting rush
Of quiet birds in circled flight.
I am the soft star that shines at night.
Do not stand at my grave and cry.
I am not there; I did not die.

Love and Miss You,

Mom Anna, Step Dad Stephen, and Brother Zachary


---
Submitted by: Samantha Lewis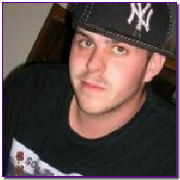 It's sad people have to go so quick,
It doesn't matter if they were drug addicts,
alcoholics or even just sick.
No matter what you do you can't help them out,
'Cuz all they're gonna do is cry and pout.
They gotta do it by themselves on their own,
If you don't, they're never gonna know
how to be all grown.
All I hear is, young lady never cry and shout,
As young as you are you have to figure out
that life goes on.
Live today as if you were dying tomorrow,
Don't try for too soon because everyone
around you will be in sorrow.

But put yourself in my shoes, how you think I feel,
Where everyone's lying and they never keep it real.
Lying bout staying clean and staying outta trouble,
Then you do it once more and it hits you double.
Now you realize you're laying 6 feet under
And now everyone screaming & crying loud like thunder.
We all love you and miss you,
Sorry that some of us tried to diss you.
We'll always remember our times with you
Shedding a lil tear in our eyes for you.
Rest in Peace
To those who're deceased.


I love you Matt aka doughboy!!

Sincerely,

Samantha Lewis


---

Go Back