Written by: Ruby Ouellette
This is my beautiful grandson Tyler Christopher Stanish he was born on July 30,2005 and we lost him to SIDS on September 22,2005 and not a day goes by that we don't think of him or miss him.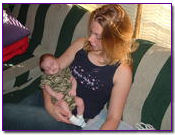 My Darlin Grandson,
I will never sing you to sleep, kiss your boo boo's better or wipe your tears when you weep. I miss the mornings of hearing you coo and fuss, TyTy Nana misses you so much. I know one day I will finally hold you in my arms and sing you to sleep and then you can wipe my tears as I weep.
I Love You,
Nana


---

Go Back